Experiment the benefit of dancing : meditative, sacred, and ecstatic.
Dance heal your body, mind and spirit. Every session is a deep healing session : take a time for yourself, empower yourself, and to benefit of the energy of a benevolent group of soul reunited with the same purpose : re-connect. 
Most of the session start by balancing the energy flow in the meridian of the season with self acupressure and massage. This will prepare and reinforce your body to welcome the new season to come and prevent any weakness. 
Every session include stretching / yoga, meditation, kinesiology and posture.
Dhyana, silence of the soul
No shoes, no booze, no chitchat. A warming-up with kinesiology, a music progressively evolving to encourage letting go, dance in the dark and meditation. 
Organic Dance (inner connection)
Sufi Meditation (cosmos connection) 
 Dance from your sensations, connect to the elements and nature. Energy flow balancing : meridians, organs, following Chinese seasons.
Dance with the univers and the planets. Experiment mystical ecstasy, the path of love, the quest of the divine self. 
A technic coming from Zen bouddhism. A walk in silence, in a contemplation state, in full consciousness.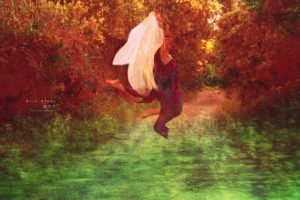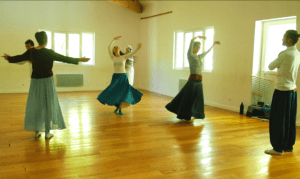 Learn with a world dance artist !
Leiya is not only an artist and a contemporary dancer : she has been traveling the world and share with you a wide range of dance flavor. People trusted her to let her attend to some ceremonies in various countries, she spent times with "shamans" and tribes around the world.  She created her own method of movement therapy : "the Organic Sacred Dance".
She enjoy a lot dancing in nature and "in situ" improvisation : dancing the space, the moment, interact and connect, express the invisible, transforming the space energy. She collaborates with musicians, tour for concerts, perform in international schools…  
To know more about her dance activities, book her for a performance, your can visite her professional dancer website : https://emmanuellevalette.com
ORGANIC DANCE 
Every wednesday At Fujino