3 Day Challenge to reduce Stress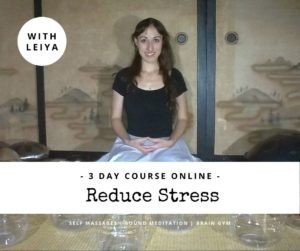 ¥2000
3 day challenge to reduce stress
3 day to reduce stress with kinesiology and musc! Understand stress & release it with exercices: body mind work, breathing, sound meditation.
STRESS DOWN, ENERGY UP!
Day 1. Relax your body with kinesiology soft body work, for everyone, any age.
Day 2. Release your soul's memories from the past with sound meditation.
Day 3. Reset your mind with Brain Gym, the start of your full transformation.
Copy and paste this URL into your WordPress site to embed
Copy and paste this code into your site to embed