Body mind therapy to improve your health & wellness
Kinesiology & EMDR・Shiatsu & Massage・Sonotherapy & Reiki
Your holistic therapy Tokyo & online help to improve the physical health and mental health of your whole family. We combine Western and oriental natural medicines for a complete treatment acting at the roots causes of unbalances. Those being: kinesiology and psychology, reiki and sound healing, shiatsu, sonopuncture, osteopathy, nutrition… 
It's your first appointment ?
You know which service to book:
YOU ARE REQUIRED NOT COMING WITHOUT ANY APPOINTMENT. THANKS FOR YOUR UNDERSTANDING.
Tokyo / Online / Yamanashi
Time zone: Tokyo, Japan (GMT+9)
18:00 on the calendar = in UK -> 09:00 (winter) & 10:00 (summer)
At Mitaka-shi | Bus 51A, from Mitaka station
2H (100~110′) – ¥16000
1H (45'~50′) – ¥10000
Shibuya-ku, Shinjuku-ku | On request
You cannot find a slot available on the calendar
You cannot move, pregnancy, young children, pet
At Shibuya-ku | Yoyogi station
Spiritual Retreat & Therapy
At Uenohara-shi | Yamanashi
Mindfulness spiritual retreat / Sessions
At 1h15 from Shinjuku, on the Chuo line, or Keio line.
Pick up, and drop off after the session/course.
Or you can take the bus direction: Imoo. 
Reiki. Meditation. Dance...
PHYSICAL HEALTH
Body & Meridian
Kinesiology "Touch For Health"
Shiatsu – Acupressure・
Thaï Massages etc.・
Medicinal plants・
Essential oils・
Lithotherapy・
ENERGETIC HEALTH
Energy flow
・Reiki therapy
・Sound wave therapy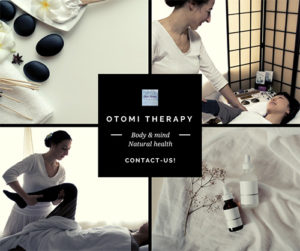 MENTAL HEALTH
Emotion release / Learning
・Kinesiology "3 in 1 concepts",
・Kinesiology "Brain gym"
・EMDR, TIPI, EFT, Hypnosis
・Biologie decodage, stress release
・Emotional langage of the body
・Transgenerational memories
・Psychology of pertinence
*We collaborate with the medical field and not in substitution of any treatment. All therapeutic practices are complementary and are efficient together.