Brief therapy to improve the body and mind
Kinesiology & EMDR・Shiatsu & Massage・Sonotherapy & Reiki
Your brief therapy Tokyo & online to improve the body & mind health of your family.
Contact us to learn more about our brief therapies and natural medicines.
Body mind therapy, with kinesiology, reiki:, shiatsu… offers you an holistic & integrative approach of your being.
PHYSICAL HEALTH
Body & Meridian
Kinesiology "Touch For Health"
Shiatsu – Acupressure・
Thaï Massages etc.・
Medicinal plants・
Essential oils・
Lithotherapy・
ENERGETIC HEALTH
Energy flow
・Reiki therapy
・Sound wave therapy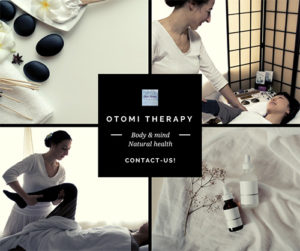 MENTAL HEALTH
Emotion release / Learning
・Kinesiology "3 in 1 concepts",
・Kinesiology "Brain gym"
・EMDR, TIPI, EFT, Hypnosis
・Biologie decodage, stress release
・Emotional langage of the body
・Transgenerational memories
・Psychology of pertinence
It's your first appointment ?
You know which service to book:
🎁 Ask your free meditation🧘
Your therapy in Tokyo, holistic approche of the all being in its globality.
From Musashisakai st. South exit. Bus No.93 bus stop : higashi no jutaku OR No.92 bus stop: nishi jidokan iriguchi
From Mitaka st. South exit No.51 stop : higashi no jutaku
From Chofu st. North exit No.91 bus stop : Fujijuko mae 
Tokyo / Online / Yamanashi
Note : The time zone is Tokyo, Japan (GMT+9)  
18:00 on the calendar = in UK -> 09:00 (winter) & 10:00 (summer)
* If you can't manage to make yourself available on the previous schedule, write us. Same for emergency.
YOU ARE REQUIRED NOT COMING WITHOUT ANY APPOINTMENT. THANKS FOR YOUR UNDERSTANDING.
Mindfulness spiritual retreat at Uenohara
At 1h15 from Shinjuku, on the Chuo  line, or Keio line. We pick you up, and drop you off after the session. Or you can take the bus direction : Imoo. 
Kinesiology. Reiki. Shiatsu. Massage
Can't move? In hospital? Session for your pet?
Session at your home or hotel, on friday, saturday mainly.
Contact-us to know if we come to your area, or consider an online session.
REIKI
SOUND MEDITATION Hynposis
Stress Release
*We collaborate with the medical field and not in substitution of a treatment. All therapeutic practices are complementary and work together.