Specialized kinesiology Tokyo is a set of technics that test and restore physical, nutritional, emotional/mental imbalances of the body. Leiya is one of the very rare person that uses kinesiology in Tokyo, a very wonderful holistic method coming from chiropractic, combined with Chinese traditional medicines.
The body has a langage that is authentic, while the mind has many subconscious "tricks" to avoid things, or hide the true reason of a physical/emotional issues. In other words, by asking and testing your body, I have access to all your cells memories, including your family history.
For instance : you felt of your bike at 6 years old, a car came and stopped before, but it scared a white cat that ran away… All ended well, and you forgot about it. You grew up, and in your teens, you became allergic to cat… Or each time you see something white you feel disgust. Or one day with no specific understandable reason, your start to feel a pain somewhere in your body, and we find out that it's connected to your injury of that day…
To sum up, in any traumatic situation, physical or emotional, your brain tend to associate some part of a memory together. It can be the cause of some disfunction: physically, or in your way of thinking and behaving. My work is to find the root cause by asking your body, then release the stress where it is located physically plus the emotion, and we reset your mind.
Some common issues : recurring body pains, mind pattern and behaviour that keep repeating, self sabotage, allergies, phobia, difficulties to read or write specific numbers for child… and so on.
What is kinesiology Tokyo ?
Specialized kinesiology is a set of technics that test and restore imbalances of the body :
Physical – structural
Nutritional – biochemical
Mental – emotional
What does kinesiology do ?
It identifies the "blockages" stored in the body by assessing muscle tone through muscle testing that works in "bio-feedback".
It determines the factors causing dysfunctions using reflex points, digital modes, affirmations, eye movement technics and many others according to the kinesiologist's panel beyond the minimum required to practice the profession

.
The benefits of a session of Kinesiology Tokyo
Can be curative or preventative. The accompaniment towards the better being is in responsibility and in conscience, in the respect of the person. The kinesiologist helps by asking the body with the muscle test, and the person defines its goals to achieve.
The origin of kinesiology
Kinesiology is based on principles of Chinese medicine and comes from chiropractic, following the research of Dr. Goodheart who rediscovered the connections muscles, organs and meridians highlighted by muscular tests in the 60s. It was then reserved for the professionals of the health. It was then developed by many chiropractors, including John Thie, creator of the technique "health by touch". Kinesiology includes several sections: health by touch, the 3 in 1 concept or One Brain, edu-kinesiology, stress release, harmonic kinesiology …
Field of action of Kinesiology Tokyo
Improvement of the energy circulation of the body by release of blockages.

Regain joy and dynamism for social, professional or family activities.

Helping to connect the right and left brain hemispheres, to have a good mental and body coordination, to understand the effects of stress on the body and to stop there.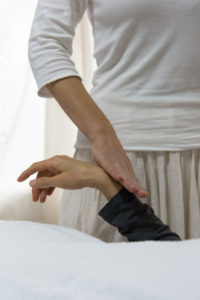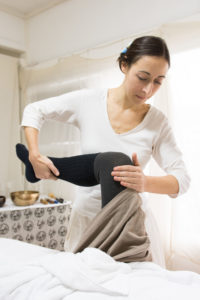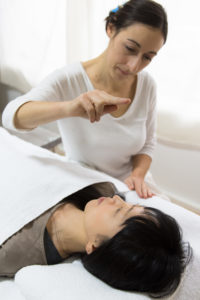 Any question about a regular kinesiology work together in Tokyo or Online?
Click above, then select "Online" on the calendar and "Free discover call"
How can kinesiology Tokyo help you ?
Muscle scouring pains
Eliminate various stress in your body or mind
To find peace and inner peace
Release the emotions that slow your progress in life
Find his optimal functioning and energy.
Overcoming physical or psychological traumas, old or recent
Make your relationships more peaceful and your communication easier with yourself and others
Increase your self-confidence
Phobia, addictions, trauma
Allergy and various dietary problems
Learning difficulties, hyperactivity, dyslexia, etc
 Before a Kinesiology session 
It is not obligatory but advised to prepare your session for a greater effectiveness of the accompaniment. 
If you come with a specific goal on which to work, we can go directly to the cause of the blockage / stress, and your body will integrate the changes much more quickly. 
If you do not have a specific one, do not worry, we will spend time determining it together because the body will "talk" anyway (muscle test).
 Interview before starting
We take the time together to evaluate your overall living environment : family, social, work, food, fitness and posture … and I accompany you in a process of better being by becoming aware of the origin / root cause of the elements that you want to change, and provides solutions using various tools. 
Everything is done gently and with respect for yourself, with the help of the muscle test : the body has a memory and the advantage of giving accurate information that the mind to forget or seeks to change / avoid. 
This is particularly the case when the body has had to manage too much "stress" in a limited time and has not been able to use its natural balancing capacity thus creating "blockages" in its optimal functioning. It is these blockages that can create complications in your life, even years after the initial stress experienced.
Kinesiology Tokyo, session's goal 
Exemple of specific objectives such as : 
"I trust myself and I listen to my intuition"
"I am confidence in front of an audience"
"I receive the gifts of life with joy"
"I adapt easily to every situation"
"I dare to express my feelings to others "
" I am in harmony with my femininity "
"I know what I want and I express my needs"
It is also possible to work on situations, addictions, deprogramming of "beliefs" related to generational or education, etc.
For whatever reason, my kinesiology Tokyo and online sessions will help you change your perception of the situation seen as stressful before. You will find your ability to make the right choices for you, in harmony with yourself and the environment around you.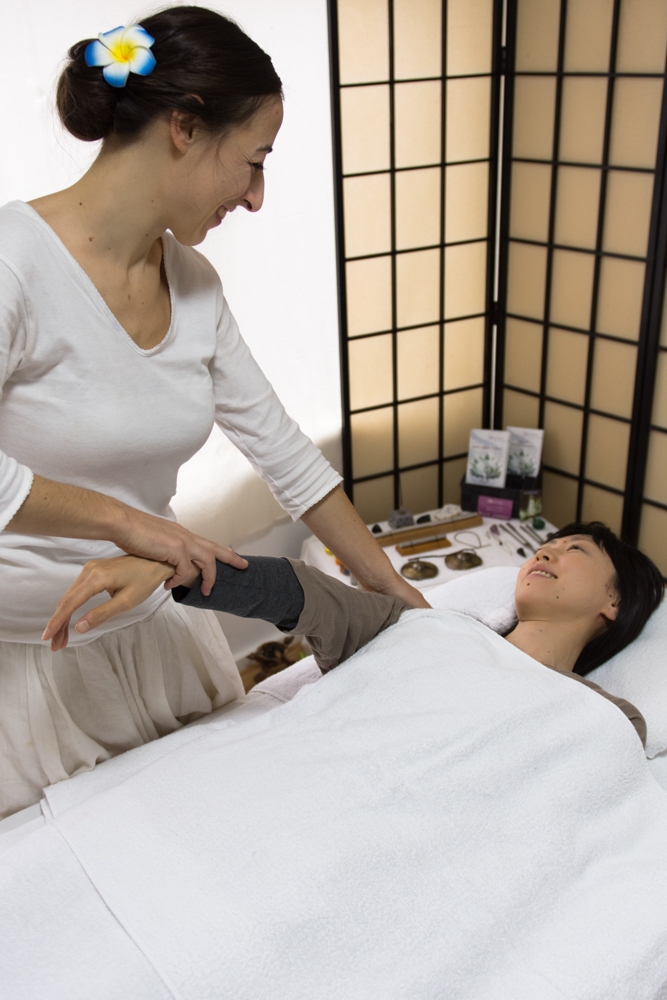 Technics and tools of Kinesiology Tokyo
Your practitioner offers sessions specialized in LSE (release of emotional stress) which is based on concepts of neurophysiology and age recession 
Always listening to the body, she test and perform a muscle rebalancing when this correction is necessary with the technique "Touch for health". It is also possible for you to have a full session of "Touch for health" according to your request and the need of your body.
Here is the various techniques, according to your needs and goal in the present moment :
Acupressure points (neuro-vascular and neuro-lymphatic)
Massage (manual touch, or with tuning forks)
Positive affirmation: sentence to repeat
Visualization / infusion-reprogramming of positive memory thoughts
Brain gym exercises
The digital modes of the method 3 in 1 Concept,  
 Eye Movement Desensitization and Reprocessing (EMDR)
EFT
Sound vibrations,
Visual cards
Colotherapy, minerals
Floral and aromatic essences, Bach flowers
Medicinal plants (your practitioner collect her own plants).
Advice on diet adapted to your body (always with the muscle test. It is also possible to search for allergenic substances, excluding drugs : test prohibited by the ethics code).
Oufit for kinesiology
Come with comfortable and flexible clothing.
Can I bring my baby or my child to a session of kinesiology in Tokyo ?
Yes, from very young. If the subject can not be tested (young children, baby, person in coma, animals), your kinesiologist will test by transfer and ask your collaboration
If a full session of hypnosis is necessary, it is advised to book a separated 1h session on another day. It's also possible to take a 2 hours session integrating kinesiology and hypnosis. Indeed, 1h15 can be short, and some goals require more time than others to integrate.