Body work "seitai": Massage Shiatsu, Thaï, Chiropractic
Relax your body and mind with shiatsu and massage in Tokyo. Release your tensions for a new light and flexible body! Improves sleeping, digestion, circulation, physical performances….
Your massage Tokyo identify and release recent and old physical disorders in your body with a wide spectrum of massage care with a warm and deep touch, adapted to your needs.
Votre massothérapeute Shiatsu
Emmanuelle (Leiya) graduated in a famour Superior Aesthetic Cosmetic Technician school in France in 2005 (Peyrefitte school, official state diploma). Her knowledge include biology, biochemistery and anatomy learnt with doctors, and medicine university teachers. Lymphatique and blood drainage was learnt with a kinesitherapist. Body care, Shiatsu and foot reflexology was learnt with a teacher rewarded as "Meilleur ouvrier de France".
She completed her knowledge in body work, energy healing and medicinal plants with massage therapists and healers in Thailand, Bali, India, the Philippines…
Very fast, she had a special affinity with Shiatsu and body work with chiropractic and oriental approach. 
During her professional dance carrier she was coached by physical therapists. She learnt from many osteopath, chiropractor, kinesitherapist who trusted her and shared their knowledge. She used it directly with her dance students, and started to integrate health prevention body work in her class.
With kinesiology courses, she went further with combining Chinese traditional medicine and muscle testing : at technic called Touch For Health".
Today, her Massage Tokyo offers you a great listening of your body and mind to take care of the deep roots cause of your stress, discomfort and physical pains.
Deep relaxation of muscles, tissues and fascia
Massage therapy techniques
Shiatsu, foot reflexology
Touch for health (kinesiology)
Manipulations and stretching (body-work and chiropractic)
Fascia, deep-tissue
Thai massage

Nuat Boran

Lymphatic and vascular drainage
Californian, Hot stones, Ayurvedic
Effects of a therapeutic massage
Identify and release recent and old physical disorders. Reduces pains, headaches and stress.
Improves sleep disorders, digestion, circulation and physical performance.
Brings relaxation and flexibility, improve the awareness by feeling and reconnecting with your body. 
 
Take a time to breath and relax, get your Massage Tokyo!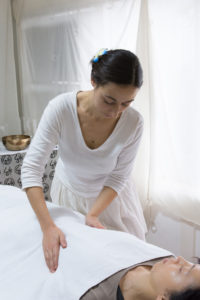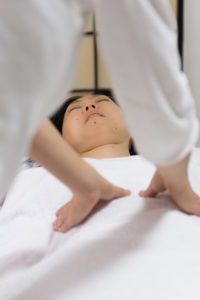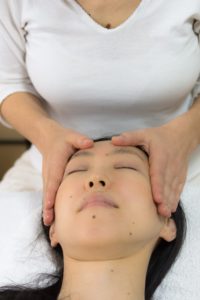 Delicate, warm and deep, listening to your needs. Her knowledge and experience as a dancer will find and release tension in your body.

Her style is a progressive massage: when your body is more relaxed and you are half asleep, she can start using a deep touch. But don't hesitate to ask her what kind of pressure you want.
Outfit for your massage Tokyo
Generally, you do not need to remove your clothing.
However, stretchy cotton trousers or other comfortable fabrics are recommended. 
Sometimes essential oils, natural organic oils, or oil macerations from its production will be used when necessary.
Some people who experience a deep touch full body massage or shiatsu for the first time may feel some discomfort on the following days. This is normal and it will disappear soon : your body regains its capacity for self-healing. 
The body release all the pains kept quiet for years. All the areas where the energy flow was blocked are "woken up" and inflate very slightly, causing a small painless compression in most areas of the body. 
In narrower parts such as the base of the neck, shoulder blades or along the spine, this can press on areas of nerve impulses and can cause pain. It is a well known process in Asia, called "the healing crisis" :  it generally takes few day to the body to recover its new balance.
When that happens, it only lasts a few days, and then you will feel very light ! If you are worried, ask your massagist a soft and light touch for a first contact, then you will get use to it and will be able to experience a deep touch massage.
If your muscular tensions are recurrent or important, it may be necessary to consider having another session using specifically kinesiology to seek for the emotional cause and release the pain durably.